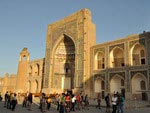 Bukhara recently has celebrated 2500th anniversary. Here, everything breathes with antiquity, and there is no place which is not associated with the centuries-old history of this holy city.
The religious significance of Bukhara is hard to overestimate: once the Arabs, bringing Islam here, made it the Muslim center of Central Asia and today there are more than 360 mosques of different ages. And many of the pilgrims first make a hajj to Bukhara, and then the main hajj to Mecca.
Also, this majestic city is called the Bukhoro-i-Sharif, which means the Noble Bukhara. For many centuries, it housed the concentration of the best minds of Asia, here Ibn Sina (Avicenna), Omar Khayyam, Alisher Navoi, Nezami, Rudaki, Dakiki, Ferdowsi, and many others worked at their time.
The large number of mosques and madrassah, preserved fortress Ark, and the city walls - all this attracts the admirers of antiquity. Due to this Bukhara is considered as one of the major tourist centers of Uzbekistan. And the basic infrastructure of the city is aimed specifically at tourists: hotels of different categories are built here, which include hotels of European style, Oriental style, and also you can find guest houses, where hosts will take care of you and welcome you with Uzbek hospitality.
The population of the city does not exceed 300 thousand people, most of population is Uzbeks. In addition to them a large number of Tajiks, Russians and Jews live here. The leading religion is Islam, which peacefully coexists with Christianity and Judaism. Bukhara is a must to visit place while on Uzbekistan tours.
The climate in Bukhara is mostly sharply continental, summers are hot and dry, and winters are pretty mild - January temperatures rarely drop lower zero. Because of the proximity of the Kyzyl Kum desert, Bukhara can be called even the oasis, and the principal places in the city are artificial ponds (the most famous is Labi-Hauz).
Apart from tourism, the processing industry of karakul and silk are developed here. The education is considered one of the best in Uzbekistan. And the colors of architectural monuments, among which people still live, is significantly different from empty architectural complexes in other cities.
Youtube video of Bukhara