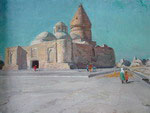 source: artnow.ru
Some time ago Bukhara was the major trading town on the Great Silk Road, the city of mosques and Central-Asian "Mecca" for Muslims. Its age is over 2500 years and, having seen the rise and fall of empires, it is now the dumb witness of the history, and this attracts many tourists.
It is the open-air museum: Ark Fortress, the Kalyan Minaret, the Samanid Mausoleum, Chor-Minor, Chor-Bakr – all this are just the most striking exhibits of "the museum" under the name of Bukhara. It numbers more than 360 mosques alone of various ages. And besides theme, there is great number of madrassah, mausoleums, artificial ponds and trading domes. It seems there is no place for ordinary museums, but it is not so: museums of Bukhara are placed mostly in the architectural monuments of the city.
The most famous museum is located in the Ark Fortress, and is called just Bukharan museum. Founded in 1922, it moved to the former residence of the emirs in 1945, and in 1985 received the status of the Bukhara state architectural and art museum-reserve. Today this museum has several branches around the city, and its funds exceed more than 100 thousand items.
Another interesting museum is the Museum of Water at the Chashma-i Ayub Mausoleum. There is the well, which according to legend, was created by the biblical Job the prophet. In addition, the exhibition of Bukhara carpets is regularly held here.
Undoubtedly, one of the most interesting museums is the house-museum of Faisulla Khodjayev, located in the historic quarter of Gozien. This is the model of architecture of the XIX century, in which the expositions, devoted to the eminent figure, life and lifestyle of Bukharans in the end of the XIX century, are displayed. The house occupies 3 hectares, is divided into three parts, and decorated with carvings and paintings on wood.
In addition, outside the city there are several museums - the Museum of Ibn Sina (Avicenna), dedicated to the great scholar who lived most of his life in Bukhara; the Palace of Sitorai-Khosa, built by last emirs, includes the exposition of clothing the XIX century.
Bukhara is the unusual city, and it is necessary to feel it - because, even though it became the tourist center, the life will always give the charm to this "museum", so holy and gracious.