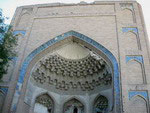 source: narod.ru
In the central part of Bukhara, on the site of the old quarter of Gozien, there is the madrassah, built in the XV-XVII centuries. The ensemble of Khoja-Gaukushan and Dzhuibory Kalon Madrassah are located near it. The madrassah has the same name as the quarter - Gozien, which is translated as "the fighter for the faith". The quarter is named after Imam Ghozi, who was buried in Bukhara as one "of the forty martyrs for faith".
In XVIII-XIX centuries the Gozien Madrasah was one of the leading Muslim educational institutions, which accepted students from throughout Central Asia. But in the beginning of the XX century, in connection with the rise of power of the Bolsheviks, it was closed, and today is just the monument which is listed as UNESCO World Heritage Site.
The building architecture fully complies with the canons of architecture in Bukhara of XVI-XVII centuries. This is the symmetrical one-storey building with the arched portal, which is decorated with ornaments and marble inserts. But in the first place, the Gozien Madrassah attracts with its historical significance for the inhabitants of Bukhara, and it will remain the symbol of enlightenment in people's memory.