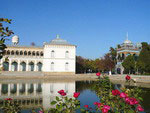 source: wikipedia.org
The summer residence of the last Bukhara emirs - Palace Sitorai Mohi-Khosa – is located four kilometers north of Bukhara. This is the only surviving country palace, which survived the October Revolution and the overthrow of the Bukhara Emirate.
The construction of the palace began in the middle of the XIX century, during the reign of Emir Nasrullakhan. However, the first buildings of the palace complex have not been preserved to date. Next Emir Muzaffarkhan built here the main building of the palace for his wife in eighties years of XIX century. Bukharan architects, after studying in Russia, built this palace, mixing eastern and western architecture. But soon the young wife of the emir died, but her name remained forever in the name of the palace. Sitorai Mohi-Khosa, translated as "palace of the Star resembling the Moon."
But the major part of the palace was built during the reign of the last Emir of Bukhara - Alimkhan. In the years of 1911-1920 the construction of the residence develops in full: front terrace, reception room, triumphal arch of the main gate, greenhouse and several other buildings were built. In addition, at this time the best wood masters of carving and ganch are attracted to the work. Architects decorated the walls of the palace with fine carvings, various panels and ornaments.
When the power of emirs was overthrown the museum was opened in this country residence. At first, in 1927 expositions about the Revolution, crafts, life of emirs were displayed there. Later it became the branch of the Bukhara museum and got the status of local history museum. In the second half of the XX century, the exposition "National Arts and Crafts of Bukhara" was placed here.
Today there is the large collection of clothes of the XIX century. Also, buildings of the complex are restored, and the Palace, as well as a hundred years ago, is ready to receive the royal guests and ambassadors from far countries.